Sorry for the late entry today ladies. Was out the whole day with the parents. Anyways! This round will not fail you. :)
Teamo
A round of pre-orders. How about some flats for a change from those tiring high heels? The rose is totally adorable and made out of cloth, I think! What better way to prowl the large shopping malls we have here in KL than with some comfy flats?
Jovy's Wardrobe
A pinafore top! First one I'm seeing that's in this funky design. Guess what ladies? The grey sleeveless top that the model is wearing inside is inclusive of the dress! So you don't need to bother looking for another top to match this baby.
Lawa-Lawa
Hello, hello! A floral maxi dress that I can actually tolerate! I love the gradual diminishing flowers as it ascends the top of the dress. And may I say that is a lovely shade of purple?? I give two thumbs up for this!
Rose Cottage
How lovely, another pinafore! This one is striped and totally reminds me of a sailor's outfit even though there isn't a hint of blue on it. It's not too low so you can wear this dress on its own without pairing something inside of it!
Dorfbury
Vests like these are like blazers - they instantly make a non-formal top look formal, thanks to its pinstripe design. The back is smocked, so you don't need to worry about it not fitting. You can also wear it over a button up shirt to make it more fitting, especially for the skinny girls who have trouble finding a button up that doesn't actually hang loose on you.
Infinite Fashion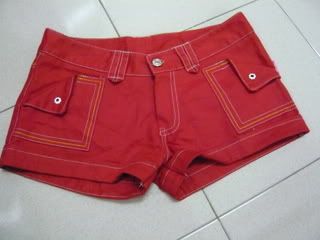 Remember what I said about bright splashes of colours being in? Check out this red shorts! Lately all the colours I've seen are bright yellow, hot pink, bright blue, bright green, but hardly red! So this is a nice change from the common colours that Sg Wang sells, eh?
Round Bean
Pardon me, but I've always found the lock and key concept a bit perverse. But it's just me. So don't worry about it. Anyway, the lock and key has always been referred to in relationships, what being you-have-the-key-to-my-heart etc etc etc. Cliche. So let's have a twist! How about there are many many keys to my heart?? Hahaha kidding. Nonetheless, the keys are extremely adorable. I love miniature pendants/charms/whatnots!
Garde-Robe
.
Yay, they've finally updated. Sadly with only one item so far. Anyway! Isn't it great how this satin top can be worn in a casual or formal environment? Plus, you can't be accused of revealing too much skin - it's only sleeveless for crying out loud! And it's satin - shiny.
Se.xx.y
.