Ai Shop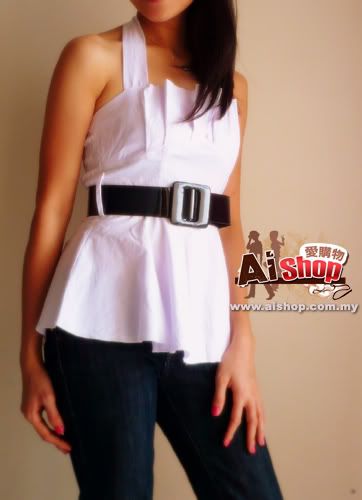 A girl needs a formal looking halter top for the office. For example, the one in the picture. Pair it with pinstriped slacks and you're good to go to the office. Best part is, the straps can be tucked in, transforming this halter into a tube!
The New Colour
I like basics with a twist. Like this racerback jersey with some details near the neckline. Also, don't you just love that shade of green? Looks good with skirts and pants!
Stitch Me Up
And the trapeze top makes its mark again. Totally casual yet formal, depending on what and how you pair it up with. A denim mini for a casual look, and slacks for the formal look.
An Old Flame
Love love love this supershort dress! It will look so totally perfect with PVC leggings and booties. Plus, even with the absence of sequins, that metallic design on the top part of this dress/top looks really good. Like a beehive design. You can't get any more explanatory than that.
Only Branded Replica
Forget teeny tiny phone straps that can only be used for decoration purposes. Get this LV one, which can double up as a safety loop, to keep your phone in good grip. You know how those slim phones can slip out of your hand. Don't be limited to only cellphones though. You can use this on your camera as well!
The Shoplifters
Gladiators are slowly evolving into more fierce looking and an entirely different design of shoes. Like this peep toed one! Love the elastics; your feet will feel more secure in these!
The Chocolate Buttons
There's the Cinderella-poor-kind-of-patches-on-clothes, and there's the fashionable type. Like this dress! I still can't get over how the patches and bits of different material look on just one dress, but I guess it's because they stuck to just two types of materials, so it's not too much. But I think this dress, together with multiple black elastic bangles, and high tops sneakers just might look good together.