Hey ladies! You must be thinking that my blog is turning into one of those help-me-sell-my-clothes charity case, but I'm not! Helping girls sell off their clothes are only the accompaniment to me reviewing clothes. Now, I'm sorry that I have not done a review in two whole days, but I was kind of busy with some part time work. Forgive me? You know you will, 'cause look what I have in store for you!
Iccy House
If I were a boy, I'd invest in clean cut button up shirts and nice jeans, because every girl knows how dashing a boy looks when he dresses in just that. Formal, but with a touch of casuality with the jeans, and sporty sneakers. And if I were a boy, I'd definitely wear pink! If I were a boy, I'd also buy this light pink button-up shirt and pair it with jeans and sneakers to go out on a date with my beloved girlfriend. And if I want to make the look formal, I'd just wear a pair of dress shoes.
Shopaholix Bar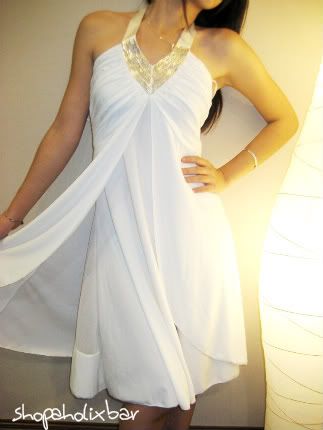 Okay, this will really make you look like a Greek goddess, what with the flowy material and the blinged collar and all. If your prom isn't here yet (it happens!), get this beauty for yourself!

Quadruple Queen
Yay, more bags! Unlike the soft hobo bags you're used to seeing around, I think this one is harder, and it can stand by itself. This means, no wilting bags when you prop them on the table! Sometimes I feel so irritated when unshapely bags tend to tumble your stuff around. Like, if I put my notes inside, it will come out misshapen for sure. I'm sure it won't happen for this one!
Miss Capsicum