Do Not Bleach
You know, there are days when I just wanna go out to like, the bank or something, and not carry a big bag. But then my shorts have no pockets. Damn. It's times like these when I'd really, really, like a clutch just like this one. Actually, should this be a wristlet instead? Anyway, clutches are usually associated with something glitzy and formal, so you'll be glad that this one is woven and casual looking enough to just pop out from the house to get something. Plus, it has enough compartments to fit your dollar notes, coins, and even cards! Yes, I know we have wallets for that, but you can't possibly fit your cellphone into your wallet, no matter how slim.
Flitterby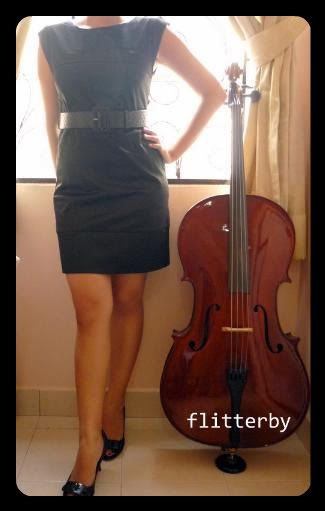 Holy shit is that a real cello??? *hyperventilates* I'd ogle over the cello, but the main point is the dress. Yes, it might look like any basic high-cut dresses you've seen, but because this is black, you can't really see that the upper part, just above the cleavage is sheer. Plus, turn to the back and you'll see a little keyhole there. Dress this up with coloured tights and a cincher.
Velvet Ribbon
I fell in love with this immediately. It's so cute! Though I probably won't have any places to wear this, it's still really, really nice. You have to admit it. It's like ballerina meets goth chick, with the frothy tutu and black lace. If you have a recital coming up, you could wear this.
A Lil of Everything
The good thing about string bikinis is that they're adjustable, so no matter how fat or how thin you get, you can always adjust it to your preference. Plus it's cheaper than the swimsuits you get at those specialized swimsuit shops (Ogival, etc etc) so you can have more than one! This black camouflage design spells fierce, and I don't mind being seen in this with a pair of aviators on the beach.
The Sticker Monster
Since plaids are in the height of fashion now, why limit it to just your clothes? Adorn your gadgets with plaids, in bling! Very Burberry meets Juicy Couture in this pink plaids. The size is probably just nice for the PDA toting girls, so look more girly than serious with these on them PDAs.
Peach Love
It's a combination of two vests! A white drapey one, and a metallic grey vest on top. The best part is that you can go creative, so the drapey part need not be drapey - tie it up! Like the blogger says, wear this to the clubs. I say, wear this piece over a sexy mini dress and boots!
Goldilock's Closet
Look like you're spewing blood with this tshirt on. Kidding. I am a lover of great graphics, and this is not an exception. Though I can't see it clearly, the design looks like paint flecks. I'd really really love it if the tshirt is in white, but I guess yellow should suffice. Looks great with light blue jeans! And a shiny, sequined vest.
Delora's Wardrobe
Big earrings are great when you have a minimalist outfit. They dress it up. This psychedelic shell earrings are a great accompaniment to say, a white button up shirt and a pair of jeans? Yes of course. Add a pair of heels and it's perfect.
Lovely Promise
Anniversary with the partner coming up soon? Get these, or a few like, hundred over couple keychains they have in store. This pair happened to be my favourite, just because I'm a fan of minimalistic things. Since they're so plain, you could engrave something onto it. Like, each other's name??
Round Bean
Even our bags need accessories nowadays. The good thing is, we can wear them as well. But for something as pretty as this, I wouldn't put it on my bag lest someone steals it. You never know, huh? :(
Jovy's Wardrobe
Yayaya I know this is reserved, but if it ain't sold out there's still hope! Plus, this is such a cute and useful necklace, it'd be a waste if I don't review it. It actually looks like a real, useable camera. It is useable, literally, but not as a camera. As a lighter, and a mini torchlight. I know, so cute!! Perfect for the subtle smokers around us, and that mini torchlight could certainly come in handy during those...one night stands. *wiggles eyebrows*
Gems 2
Haven't bought your Christmas cards yet? Shame on you. Lucky for you, here I am, showing and telling you that there's a fab site that sells handmade cards, and since it's in the season, Christmas cards!! The silvery embossed Christmas tree is really simple yet nice. Just because too much of designs are, y'know,
too much
.
Ancient Orchids
Enough with the mainstream striped cardi already! Who likes their jacket with some funk? I know I do. Jackets are like shoes; not every one of them can suit all your outfits, so you just need more of 'em. Might as well get some funky ones while you're at it. Like this, with tutu-like hems, and flower patterned lining! You can flick it out to be a makeshift collar, or just keep it concealed.