Simply Pretty Things
Remember my review on this babydoll smocked tube? Guess what, this awesome baby and all the other clothes (which are available, of course) are on sale! From today onwards till 11.59pm on the 30th of November! We all love sales. It's our favourite word in the fashion dictionary. This top is going for RM20 only!
Flitterby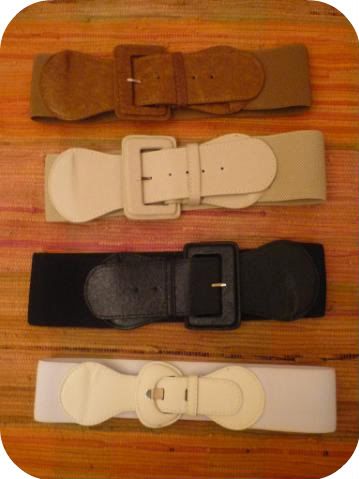 Instead of the glammed up shiny and design-y cinchers, how about something basic, that looks like a belt? Just because cinchers like these will match almost anything. I think the brown one will really go with a white shirt and jeans, but sadly it's sold out. :( Nonetheless! The rest are still available.
WhortleBerries
I am not so sure if this is a preloved shop, so pardon me. Anyway, I am liking the innocence and sweetness of this dress! High-cut (the opposite of low cut??) to cover that cleavage but yet making you look demure. Just nice for those of us who aren't allowed or are a tad afraid to wear low cut attire. It has a sash so you can tie it back to create the illusion of a waist, minus the cincher! The skirt area is also swishy swishy enabling you to cover up thighs with a little flab.
Cloud Nine
I am digging the simplicity of this bubble dress! Empire waistline, with that band looking like there's a sash at the back. I think this would suit the OLs working in the media area, as it's quite the funky looking for the office!
Miss Shopaholic's Closet
Feel all airy in this flowy halter top. Love the floral designs, it looks great with that combination of shorts and heels.
Miss Capsicum
A simple and elegant kimono-like dress with minimal design! Sometimes too much can be a tad blinding, especially 'cause some kimonos tend to make you look a little wide in the torso area. Nonetheless, this is just elegant!
Pixie Closet
Oh, I do like the combination that this model is wearing! Very Victorian meets punk chick. She is definitely working that black bracelet. Although from the picture, it kind of looks like those long black beaded necklace wounded into a bracelet. Anyways, if you like, a spiked faux leather bracelet can do the trick as well!
French Kiss
I love bags, and I love purple. This Locquet is definitely something I'd want to be seen with in campus! Because we all need something that is striking to set us apart from the crowds. ;)
Dollphase