This entry will be 18sx - be warned!
I'm pretty tired of going through shops after shops of practically the same clothes. So this entry will be dedicated to lingerie, underwear, bikinis, and the usual stuff! I'll try not to post too revealing pictures. ;D
A Lolita's Diary
This online boutique specializes in kinky wear. *snigger* It's too bad I'm 6 days late for a review; they have the awesomest halloween costumes...sexy ones, that is. But no matter, Christmas is next month! This is probably the most modest one there is, there are sexier ones guaranteed to make your man delirious with excitement.
Jen's Closet
Always dreamed of the French maid look? Here's a sexier and cheaper alternative to the French maid outfit which will cost you hundreds. I'll state the obvious: It won't look good hidden under clothes.
Fancy something in a sweet colour, with lace, ribbons and flowers? Look no further than this shop. They sell a variety of lingerie, and even some nice bikinis! Too bad their bikinis are all sold out though. :(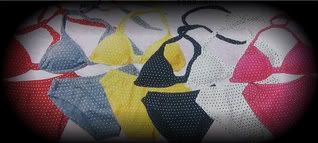 Bikinis (...or are they undies?) for sale! Sooo many candy colours to choose from...you'd be spoilt for choices. Quick, take your pick!