Favourite Boutique
I love this jumpsuit! Totally has that androgynous feel to it. Though from the picture, it kind of looks khaki coloured, and that colour is a little hard to match if you wanna look serious. :( 'Cause, you know, khaki is usually associated with the outdoors, soldiers and whatnot. If only these were dark grey and pinstriped, they'd so totally fit for the office!
Milky Cottage
Cute dress. Basic, yet cute. The white band makes it have the sailor-ish feel, and that fedora actually matches the dress! Though I say with something so simple, a quirkier fedora is needed! Polka dots, maybe?
Autumn Closet
Having a dinner with the parents and relatives, so you can't dress too sexily? Look sexy without baring too much skin in this spaghetti strapped, knee length dress. Yeah, so what if it's knee length? Knee length skirts hide your flabby thighs and show off your slender calves!
Velvet Ribbon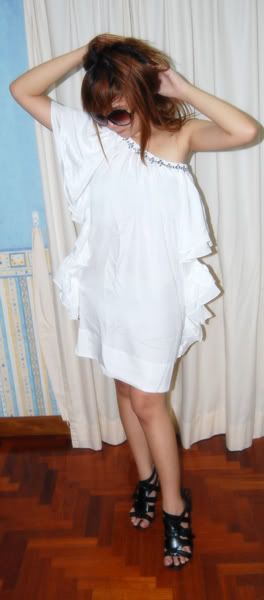 This dress. Is amazing. You
have
to go and read her blog to see how many ways there are to wear this dress! Back-to-front, off shoulder, fluttered sleeves, tube, oh the list goes on! Best thing is: The jewels on the collar of the dress. Lovely. Btw, Velvet Ribbon owner, those gladiator heels are gorgeous! Where did you get them?
Miss Capsicum
If your eyes are immediately focused on the houndstooth cape, please tear your eyes away (no worries, that is for sale too) on the bag. Yes, the adorable square bag that's totally reminiscent of a paper bag, but no, it's a tote! It's solid too, and it's fantastic for making a statement, compared to the soft, no-form bags. Get this one for a change. You won't regret adding it into your collection.
Peach Love
Cute halter top, or a dress for the extreme petites. Love the faux double-breasted appeal, and the fact that you can wear it to the office and then to the club! Just pair it with some lace tights if the top/dress doesn't expose your crotch, or some dark wash skinnies if they do. Add a pair of bright coloured shoes and you're good to go.
Peep
I love scarves. After I saw a uni mate wearing one, adding pizzazz to her tshirt and jeans, I told myself, I totally need one. I have one. But it's no crime having another. Especially a woolly snowflake scarf like this one!
Dress To Kill