WhortleBerries
Those who have a slender waist but flabby thighs and slender calves (I know, what a combination) look best in tiered, ruffled skirts! I can't help but fall in love with this cute little gingham tiered skirt. I feel like wearing this skirt with a white tank top, lots of accessories, and a pair of Converse All Stars!
The Bling Bling Shop
I have always felt that thinner rings are more suited to girls, whereas thicker rings are more suited to the boys. But of course, it's all about preference. I like my rings with minimalistic designs, so as to keep from becoming trashy and over-the-top. Like this simple, stainless steel piece! I actually saw another one, but it was thicker, so I guess it's for the guys. Nonetheless, go spoil yourself with the array of rings they have!
Bimbs Wardrobe
I totally dig this cropped plaid blazer! For the petites, finding a suitable length blazer is really really hard. Most of the time, they end up too long to be liked, thus making you look even tinier in the oversized blazer. Therefore, a cropped blazer is the best bet for petites. No worries about it being too long, plus it even looks cool! This blazer totally works for the preppy look, but you could go for a mismatched look, like a totally girly dress paired with this blazer.
A Cup Of Sugar
This little grey dress reminds me of a ballerina. I do realize ballerinas are more adversed to pink, but you have to admit this looks sweet. Body hugging, lace and chiffon - ooh! All things girly into one. It might be a little plain by itself, so why not jazz it up with the cropped blazer from above!
Cat in a Bowl
I could have posted the pink one and showed you the embroidery on the top 'cause it's more obvious, but I prefer the black. :( Plus the pink one's sold out already. :( Anyway, even though you can't really see it, there are floral embroideries on the top/dress! It also comes with a spaghetti strapped top for layering purposes, but with all the velvet going on, I don't think you would wanna layer in this hot weather.
Wearever U Like!
In the quest to look cool, guys often wear their pants low slung, inadvertently showing off their underwear. It's cool, depending on what kind of underwear you're sporting. *snigger* With this faux two-piece pants, you guys can wear your pants the normal and more comfortable way, yet looking like your pants are low slung. Minus the flashing underwear.
Bunny Noo
Check it out, this dress looks so sporty and cool. Monochromes are my favourite colour. Totally ironic, as black and white aren't actually a colour. Please ignore me. I see that this dress also has the uber long drawstring! Perfect for looping round and round or just getting creative and see which styles you can tie it in.
Forever Boutique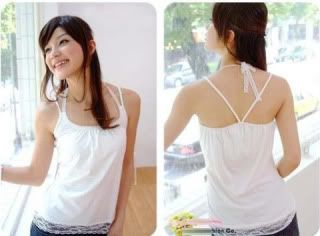 I like basics, but I also like basics with a hint of pizzazz! From the front this looks like a basic white sleeveless top. From the back, it's cross backed with a halter! So cool. The hem's also lace piped, adding to the girliness factor. Looks good with just about any bottom, so you can cool off with this in our balmy weather.
Velvet Ribbon
Velvet Ribbon always brings in cool and versatile dresses. We girls can never have enough clothes, so we can only love even more clothes that can be worn in so many ways. This dress can be worn cowl-neck style, off-shoulder style, and straight up sleeveless style. The best part of this dress is the plunging back with the extremely cute bow. Lovely! I say you put on your NuBra, slip on this dress, and turn heads when you're out at night.